Important: The Brunswick meetinghouse has been sold and all services are now being held at the Wales meetinghouse.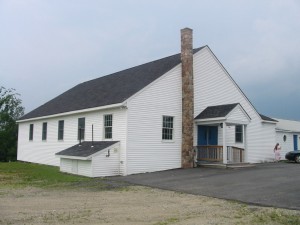 Wales Meetinghouse
949 Gardiner Road
Wales, ME 04280
(207) 200-6010
(207) 974-9758
Ministers: Mark Bucher, Jim Gould, Melvin Hade, Nathan Meyers
Directions: Take the Maine Turnpike to Exit 86. Make a left off of the ramp and drive 8/10 of a mile, then turn right onto Pleasant Hill Road. Take a right at the next intersection and follow Route 126 East for six miles. Meetinghouse will be on the right.
Sunday School: 9:30 am
Sunday Morning Worship: 10:30 am
Prayer Meeting: Wednesdays at 7:00 pm.
Hymn Sing on the 4th Sunday of even-numbered months: 7:00 pm